Exclusive Interview With Lawrence Ho
Melco Resorts' CEO maps global expansion, hi-tech aspirations
Lawrence Ho Yau Lung, 42, is one of the youngest executives to lead an international hospitality and gaming sector brand. As his group lays the groundwork for international expansion, Mr Ho says he wants his companies to be first movers in terms of adopting new technologies and to be ahead of the curve in terms of innovation.
Mr Ho, chairman and chief executive of Nasdaq-listed Melco Resorts & Entertainment Ltd, is establishing himself as a force to be reckoned with in the integrated resort sector, being bold about the group's expansion plans and the need to cater to a new customer base, one more affluent and travel-savvy than those of previous generations.
"Our goal was always to be a Hong Kong-headquartered, Asian-based company, but with global aspirations … we've always said that we want to do other jurisdictions [beyond Macau]. When we get into international jurisdictions, we want to go big," Mr Ho said in an exclusive interview with Innovation Hong Kong.
Mr Ho – son of Macau casino tycoon Stanley Ho Hung Sun – is also chairman and CEO of Hong Kong-listed Melco International and Development Ltd, the parent company of Melco Resorts.
The businessman did not get seriously involved in the hospitality business until 2004 when he got a licence in Macau that paved the way for the group's growth. Such expansion was always with "a focus on quality and innovation," noted Mr Ho.
Studio City Macau
Since then the business has grown in tandem with his own ambitions. The Melco group now operates integrated resorts in Macau and the Philippines. On June 8, it held a ceremony to break ground for an integrated resort in Limassol, a city on the southern coast of Cyprus.
City of Dreams Manila
"In Manila, when we went in six years ago, people thought we were crazy for spending US$1 billion there. Even in Cyprus, people are not huge believers of the fact that we are spending US$700 million there," said Mr Ho.
City of Dreams Mediterranean -Cyprus
"Truth of the matter is when we go into these destinations, we want to be the best, and we want to make sure that we are competitive globally." The group, however, is cautious about its investments. "Although we are active in expansion, we are also very conservative in terms of looking at the jurisdictions and destinations that we go into," explained the CEO.
New, different projects
Melco also tends to reinvent its offering with each integrated resort it builds in a new jurisdiction.
"We enjoy doing something new every time, something that is culturally sensitive, that respects the local cultures," Mr Ho told us. "Our belief is that, when visitors go to different countries they want to have a different experience, they don't want to go to the same place every single time." The executive stated that the group's philosophy is based on wanting to offer its guests "something different each and every time, something that is unique to the city that we are in".
"I love the process of coming up with these ideas, to me that's half of the fun," he asserted.
That is what the company intends to do in Japan, if it is successful in bidding for a licence to develop an integrated resort in that country."That would be a dream come true, if we were to get a licence in Japan," said the executive. "Japan is a country that focuses on quality and technology. It's very similar to the beliefs of Melco," he stated. He added: "In the jurisdictions where we are investing, we have to lead the curve in terms of innovation… but in Japan, we can go wild in terms of creative ideas – I can't reveal some of the ideas we currently have, but they would definitely be world-first and unique for Japan."
Mr Ho said additionally that the group "always thinks of ways to disrupt the current business model," especially considering that it is a young company with a young management team.Constantly referring to the need to do something "new and cool", the businessman sees that as a must in order for Melco to keep pace with the constant changes in the market.
"We are always looking at how can we offer better experiences, what can we do from an hospitality standpoint that is better than how it's done in the traditional way," he noted. "We think people deserve better, we are a young company and we should give them a cooler experience."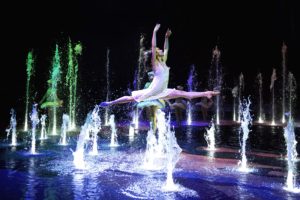 Innovative entertainment
That becomes increasingly important as the target customer base evolves, comprising more affluent and experienced travellers, especially from the so-called "premium-mass" segment, which looks for a holistic experience, he suggested.
"We created the most profitable and most sought-after segment in the market, which is the premium-mass segment … and we used a lot of analytics to do so," explained Mr Ho. "Once we created that, now all of our competitors are trying to copy us."
Melco's goal, according to its CEO, is to be "the most analytically-focused company. We make use of big data to analyse our customers' preferences, their spending, what they like, what can we do more, both on the marketing side and also from the servicing side … in order to serve our customers better," stated Mr Ho.
"It's all about what can we tailor-make for them, in terms of what can draw these people back into our properties in Macau and elsewhere … and how do we create an ecosystem that our guests can enjoy when they are not at our properties," he added.
Pushing the boundaries
With the group's expansion comes the need to continue to push the boundaries "to do better and innovate," said Mr Ho, highlighting the need to bring greater technological and digital know-how into the operations of an integrated resort and breaking with the traditional ways.
"Innovation is not only on technology, it is also on our processes … in order to be more efficient," noted the businessman, adding he is trying to transform the company into a more entertainment- and hospitality-focused group.
One such example is the development of a new "virtual butler" system – named Melvis, and to be launched in a couple of years – that will attend to guests' needs even before they arrive at the group's properties."We need to make the entire guest experience easier, letting our customers have the experience they want, rather than the traditional way" of hoteliers deciding for the guests, said Mr Ho.
The company is also a big believer in innovating in the construction of its buildings, said the executive, citing the example of Morpheus.The US$1.1-billion Morpheus – scheduled to open on June 15 – is recognisable for its cage-like structure. The hotel was designed by the late Dame Zaha Hadid, who worked closely with Mr Ho to create the world's first free-form exoskeleton high-rise building.
Morpheus in City of Dreams Macau
"Without technology, Morpheus would not have been built 10 years ago, because of the precise exoskeleton and how it connects; there's not a single column in that building," noted the businessman.
The hotel will offer 772 guest rooms, suites and villas; restaurants by Alain Ducasse – including his first Asian restaurant; and a rooftop sky pool 130 metres above ground. Mr Ho has described the building as designed to "satisfy the dreams of tomorrow's most sophisticated international travellers".
"The purpose of building such a difficult building is to give a gift back to Macau, as Macau deserves a landmark building … We wanted to do something cool, amazing; and that's really part of our company's philosophy – to be pioneers of innovation," Mr Ho told Innovation Hong Kong.
The Melco CEO said the group would continue to make use of every possible technology to improve the company's offerings, including the use of virtual reality (VR) and artificial intelligence (AI)."I'm a big believer in these technologies, virtual reality and AI," said Mr Ho, noting that the company will launch "the biggest virtual reality zone in Asia" at Studio City, in Macau, at the end of this year.
These technologies, he said, would be used to complement guests' experiences.Innovation Hong Kong asked if he envisaged developing a virtual reality integrated resort in the future. He replied: "I don't think it [virtual reality] can ever supplement the actual real experience … so I think we will probably use it to supplement the real experience."
Photos courtesy of Melco
Subscribe to newsletter